Nach dem Hinzufügen eines "Skript" -Feldes (Öffnen Sie den Editor >> Mehr >> Felder >> Feld hinzufügen >> Feldtyp: "Skript"), schreiben Sie ein Skript in den dafür vorgesehenen Bereich. Sie können die Reihenfolge der Tastenbetätigungen und Mausklicks programmieren, die mit den Befehlen "Formular ausfüllen" und "Füllen & Senden" / "Anmelden" ausgeführt werden (siehe unten).

Beispielsweise:
$u
TAB
$p
SUBMIT:
ENTER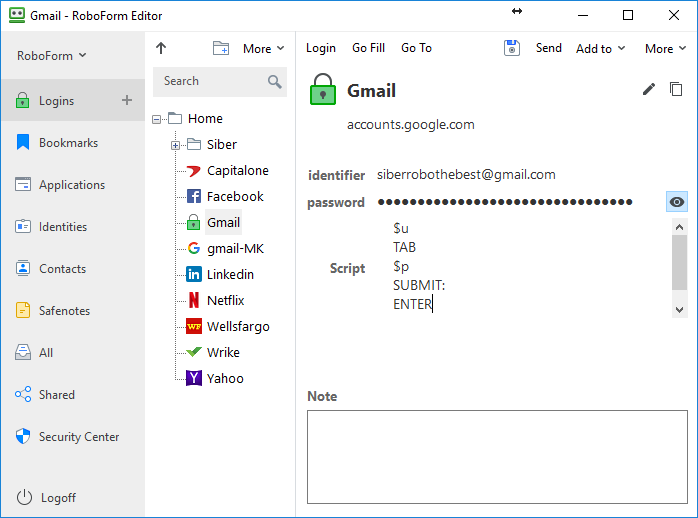 Script Syntax
Ein Skript ist eine Folge von Befehlen, die durch Leerzeichen (Leerzeichen, Tabulatoren, neue Zeilen) getrennt sind:
<command1> <command2> <command3>
'#' ist ein Kommentarzeichen. Ein Teil der Zeichenfolge von "#" bis zum Ende der Zeile wird ignoriert.
Textbefehle
Textbefehle werden verwendet, um Zeichen an das Anwendungsfenster zu senden und Tastatureingaben zu emulieren.
1) Literalzeichenfolge 
"<text_string>"
Eine Zeichenfolge in Anführungszeichen, ANSI oder UNICODE, wird an das Anwendungsfenster gesendet.
Escape-Codes wie \ n, \ r, \ t werden nicht unterstützt.
2) Felder für Passwort und Benutzer-ID
$p - eine Zeichenfolge aus dem Passwortfeld
$u - Wert des Benutzer-ID-Felds
3) Andere Passcard-Felder
%<field_name>%
<field_name> kann teilweise angegeben werden, d. h. nur Kontroll-ID oder Beschriftung
4) Sondertasten
Verfügbare Tastennamen:
SPACE, TAB, ENTER, ESC,
UP, DOWN, LEFT, RIGHT,
HOME, END, PGUP, PGDOWN,
 INS, DEL, BACK, F1- F12
SHIFT CTRL ALT
<key_name>  
                              Taste drücken und loslassen
            <key_name>+
                              Taste drücken
<key_name>-
Taste loslassen
Mausklick-Emulation
*<x>,<y>
Mausklick auf Koordinaten, die relativ zur linken oberen Ecke des Fensters angegeben sind
Verzögerte Ausführung
DELAY <seconds>
<seconds> - eine Anzahl von Sekunden, kann einen Bruchteil haben. Bruch muss durch einen Punkt getrennt werden. Zwischen dem Befehl und der Nummer muss ein Leerzeichen stehen.
Submit Marker
SUBMIT:
Dieses Label trennt das Füllen und Übergeben von Teilen des Skripts. Der Teil nach dem Label wird nur durch den Befehl "Füllen & Senden" ausgeführt und nicht durch "Formulare ausfüllen".
Klartext Feld
CLEAR
Dieser Befehl ist eine Verknüpfung für die folgende Sequenz von Skriptbefehlen:
HOME SHIFT+ END SHIFT- DELETE
Zu einem aktiven Fenster wechseln
POPUP
Um zu verhindern, dass private / vertrauliche Informationen in das falsche Fenster geschrieben werden, verhindert RoboForm das Eingeben und Klicken mit der Maus in andere Fenster als das Fenster, das als Ziel für die Befehle "Formulare ausfüllen" oder "Füllen und übermitteln" ausgewählt wurde. Der POPUP-Befehl schaltet das Ziel auf das aktuelle aktive Fenster um.
Script Example 
*100,200    # click at (100,200) in the window
"uoydellortI" TAB # type string and press TAB key
$u TAB      # type value of User ID field and press TAB key
$p TAB      # type value of Password field and press TAB key
DELAY 1.5   # delay for 1.5 seconds
SUBMIT:          # next lines are used to submit the data
SHIFT+ ENTER SHIFT- # press SHIFT+ENTER
Verwenden von GoTo URL und Match URL in Passcard
GoTo URL 
Wird zum Starten der Anwendung und zum Bereitstellen von Befehlszeilenparametern verwendet.
Format: 
exe://"<path_to_executable>" <command_line_arguments>
Das Präfix 'exe: //' gibt an, dass diese Kennkarte für Fülldaten in einer Windows-Anwendung und nicht in einem Webbrowser verwendet wird.
<path_to_executable> -vollständiger Pfad zur ausführbaren Datei der Anwendung RoboForm verwendet diesen Pfad, um die Anwendung zu starten. Z.B.  C:\WINDOWS\explorer.exe
<command_line_arguments> - Befehlszeilenargumente, die an die Anwendung übergeben werden sollen.
MATCH URL
Wird verwendet, um das genaue Fenster für die Passcard zu finden.
Format:
exe://<name_of_executable>/<window_title>
<name_of_executable> - Dateiname der ausführbaren Datei der Anwendung ohne Erweiterung. z.B: Entdecker
<window_title> - text of the window title.  It can contain '*' as a wildcard at the start or the end. Samples:
exe://<name_of_executable>/<window_title> - exact match
exe://<name_of_executable>        - any title
exe://<name_of_executable>/*     - any title
exe://<name_of_executable>/*<substring>*
exe://<name_of_executable>/<substring>*
exe://<name_of_executable>/*<substring>