To activate your RoboForm for Business company account trial you must:

1) Purchase the RoboForm licenses directly from the admin dashboard.

Company admins can purchase RoboForm for Business licenses for their company directly from the admin dashboard. Licenses purchased in this fashion will be automatically added and your existing company trial account will be activated.





2) Have licenses already purchased online.

For this scenario you must have:
Created a RoboForm for Business Company trial account (explained here)
Purchased RoboForm for Business licenses.
Have company admin level access to the company's RoboForm for Business trial account.
Access to the instructions sent to the billing email contact provided during purchasing process.

Open the confirmation email sent to the billing contact provided during the purchase process. The email will contain the following:

Order ID: 10 digit number
Order Name: company or individual name provided during the purchase process

Log In to the company RoboForm for Business account using your company admin account.
Navigate to "Company Settings" and then "Company Profile"
Fill the "Order ID" and "Order Name" fields from the values in the email from Step 1 and press "Submit" button.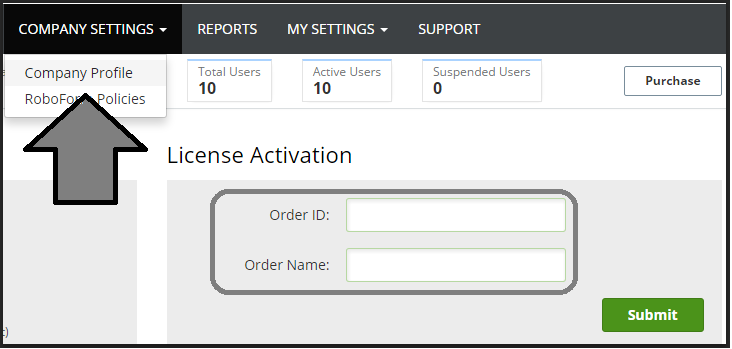 NOTE: If the number of accounts created during trial exceeds the number of licenses purchased, please delete the extra trial accounts lowering their number to the number equal or lesser than the number of purchased licenses and then repeat the activation procedure.