There are two instances where RoboForm may prompt to AutoSave an existing login:
1) Backend changes have occurred on the specific site.
2) When manually logging in to a site rather than using RoboForm's AutoFill feature, modifications are made to the login credential fields that do not currently match what's saved within RoboForm.
Solutions
Option 1: To resolve any issues due to site backend changes or manual changes, simply accept the RoboForm AutoSave prompt. This will overwrite the existing login file.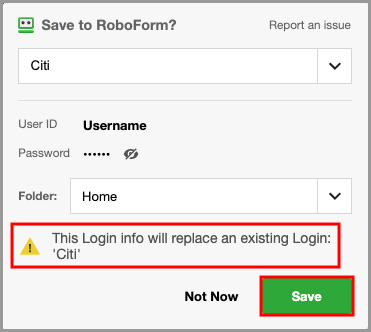 On the rare occasion that AutoSave continues to prompt, a blocking login will be needed. Proceed to option 2.
Option 2: Save a blocking login for the URL. To save a blocking login:
1) Navigate to the URL and enter your login credentials. RoboForm will ask if you would like to save the Login.
Click the "Never For This Site" button in the dialog.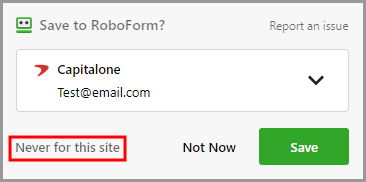 2) RoboForm will save a Blocking Passcard to the root folder of your RoboForm Profile. If you decide to save a login for the URL, delete the *LoginName* -Blocked- Login using RoboForm Editor.