This tutorial is for RoboForm V7 only. It does not apply to the current version of RoboForm. users. 
The Password Generator creates random passwords of any length with the click of a button. 
Generating a password
1) Mouse over the "Generate" button in the RoboForom toolbar and you will see a suggested password. 
Note: When the Generator window comes up for the first time, it automatically generates a new password. 

2) To generate a different password, click the "Generate New" button in the Password Generator.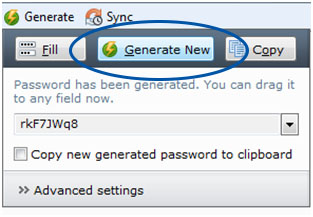 3) To modify your character settings for generating passwords, click the "Advanced Settings" tab in the Password Generator.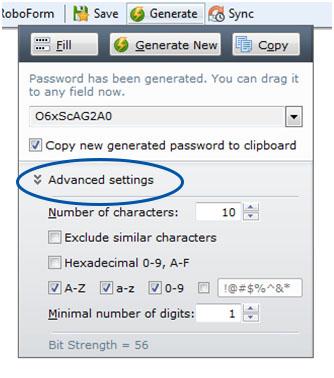 Using generated passwords for online signup forms
1) Navigate to the sign in page of any website. Click "Generate New" >> click "Fill" when you are ready to create and confirm you're new password. RoboForm will fill your generated password into the matching password field(s) on the website. You can then submit the form.
Note: Increasing your password length and adding characters will increase your password security.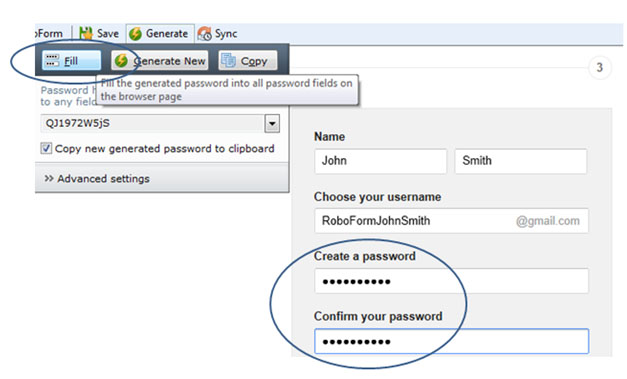 Saving your generated password for future use
The simplest way to re-use your generated password is to save it in a secure Login.
1) Log out of your newly signed up website from step 1.
2) Return to the log in screen of the website.
3) Type in your username.
4) Mouse over to the Generate button and click "Fill." RoboForm will fill in your newly generated password. Log in to the website.

5) You will be prompted to save your username and password as a Login >> click "Save."