This tutorial is for RoboForm V7 only. It does not apply to the current version of RoboForm.
A Login is a combination of a website URL, your user name, and your password, which can be used to automatically log you into websites.
Saving a Login
1) To create a Login, simply go to any website and log in as you normally would. Example  http://www.google.com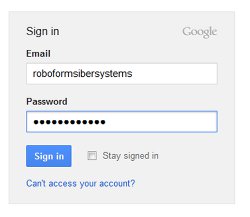 2) An AutoSave dialog will pop up on the top or bottom of your browser and offer to save your login information into a Login.

NOTE: A basic domain name will be displayed as the Login name. You can rename the Login and edit this name at any time.
3) Click the "Save" button and your Login is created!



Using the Login
1) Click on the Logins button in the RoboForm toolbar. A list of your saved logins will display. 



2) You can select any one of your saved Logins and RoboForm will automatically log you in to the corresponding site.



One click Logins
When you reach a website for which you have already created a Login, you will notice that the name of the Login appears in the toolbar. Click the Login name on toolbar and RoboForm will fill and submit the login for you.