Note: By proceeding with these steps, any data that has not been used for more than six months will be listed for deletion. This will not impact any data currently in use within your RoboForm 8, it will only be data outside of the current account.


Prior to deleting these files, you will have the option to explore the folder and back them up to another location, should you wish to do so.
How To Clear Unused Data
1) Click the RoboForm icon in the upper toolbar >> select the three dots in the upper right on the drop-down >> select "Options."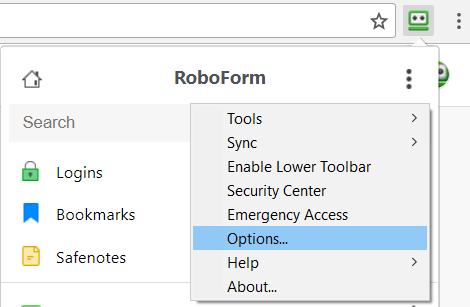 2) Select Account & Data >> click the "Advanced" >> choose "Clear unused RoboForm data."


3a) A window will appear, showing the previous profiles that contain unused RoboForm data and the respective locations where those details are stored. From here you may delete the data or choose to cancel.




If the data is no longer needed, check the box to the left of the respective profile >> click "Delete" at the bottom left.

If you choose not to delete the data and instead click "Cancel," an alert will appear in thirty days, reminding you to delete the unused data.




3b) Alternatively, if you have no old RoboForm data, you will receive the below message. Simply click "OK."