Two Factor Authenticaton (2FA) is available for RoboForm Everywhere accounts. 2FA options include Google Authenticator, Authy, Microsoft Authenticator and other time-based one-time password (TOTP) authenticator apps.
For instructions on enabling 2FA using Google Authenticator, please follow the steps listed below (the steps for other TOTP based apps are similar).
Before You Start
Install your favorite TOTP Authenticator app.
NOTE: You will always need access to your authenticator app.
How It Works
Two-factor authentication requires two forms of identification to gain access to an account. With two-factor authentication enabled in RoboForm, you need your RoboForm login credentials and a passcode to access your account.
The passcode is generated from two pieces of information: one permanent and one random. The permanent, unique piece (a QR code or secret key) is stored in RoboForm and on your device when you set up two-factor authentication. RoboForm and Google Authenticator then use this code in combination with another constantly changing value to generate your temporary six-digit passcode that you'll use to log in to RoboForm. If the passcodes in RoboForm and the Google Authenticator app are the same, you're granted access to your account.
Setup Instructions
1) Log into your RoboForm Online Account.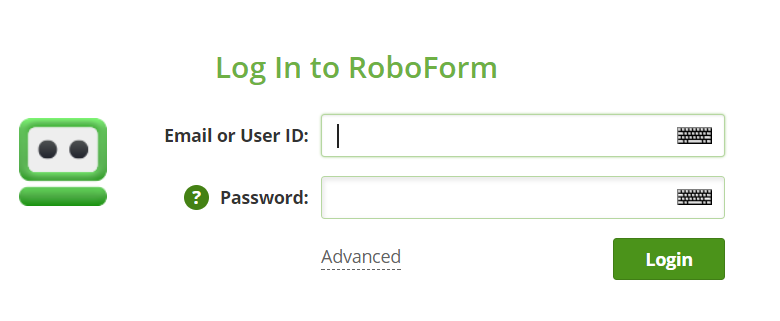 2) Select the Security tab in the upper navigation bar.
3) Under "Send the One Time Password via," select Google Authenticator.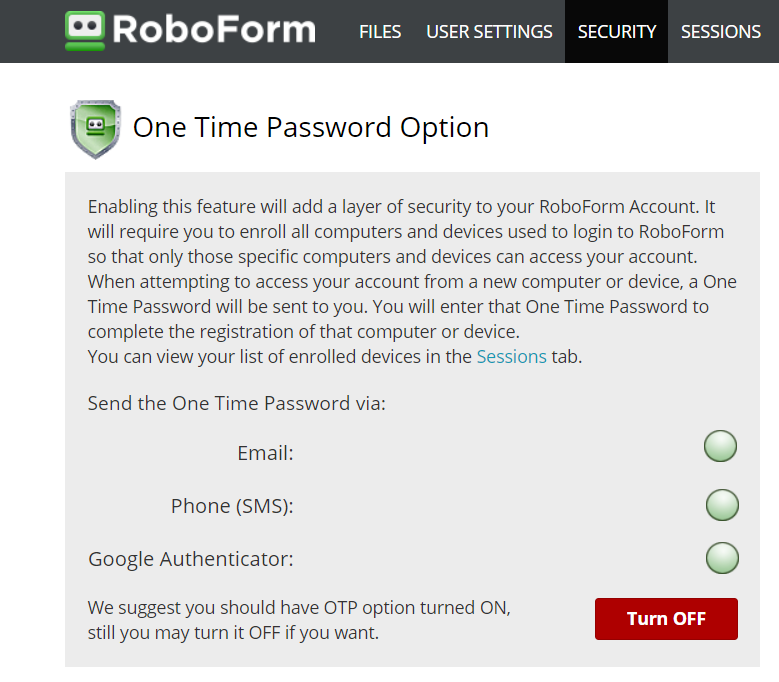 4) Scan the QR code or manually enter the secret key into your Google Authenticator app.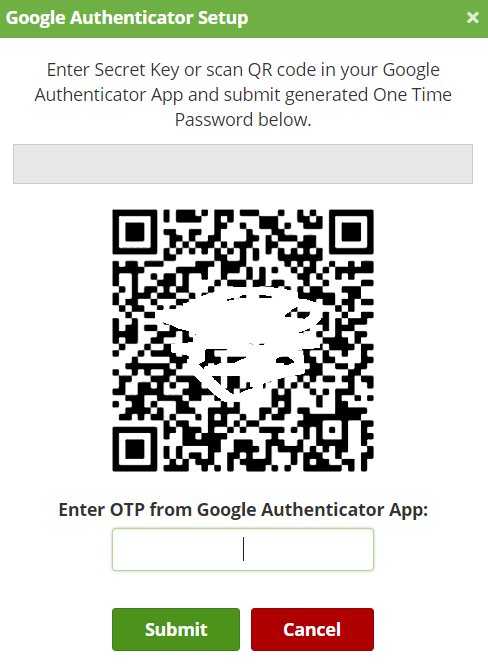 5) Once you've scanned the QR code or entered the secret key, the Google Authenticator app will provide a six-digit numeric code. Enter this code into RoboForm where it says "Enter OTP from Google Authenticator App (refer to image above).
6) Upon successfully scanning or entering the secret key, the following message will appear within your RoboForm Online account.

Moving forward, when accessing your RoboForm account from a new device, a One Time Password will be sent to your Google Authenticator app. You must successfully enter this six-digit numeric code into RoboForm to complete the registration of that device before you can access your account.

While we strongly recommend using 2FA to protect your account data, if you wish to turn off this security feature, you can do so by logging into your account >> select the Security tab >> click the red Turn OFF button.