While trying to create RoboForm for Business trial account you got this error message.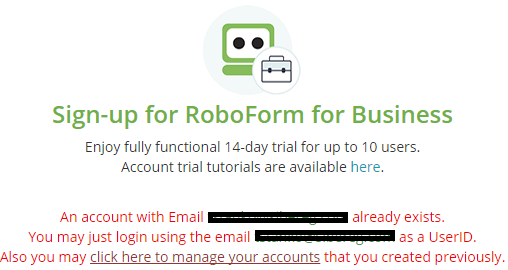 The email shows that it is already in use because either it has an RoboForm Everywhere Account (consumer) associated with it or has been previously used to sign up for RoboForm for Business.

     This issue can be resolved by:
Deleting the existing account.
Changing the email on the existing account.


     1. Follow this link to get to RoboForm Everywhere account management page.

     Provide existing account email on the bottom of the page and hit "Submit" button.

                        


     The email will sent to the existing account holder. The email will contain the existing account deletion link.

     NOTE: This process will delete all the RoboForm files stored under that account.  


     Once the existing account is deleted, please proceed with the opening of the RoboForm for Business company account here.

     2. To change the Email of an existing Account:

- Login to the your existing Everywhere account here
- Go to "User Settings"
- Change existing account email by clicking on change email button
- Use the old email to open the RoboForm for Business company account here.