Passkeys are a new form of passwordless authentication that is highly secure and resistant to traditional attack vectors like phishing and server leaks. We expect that passkey adoption will increase as more sites support them.


What is the benefit of storing passkeys in RoboForm?
Storing passkeys in RoboForm allows you to use your passkeys on every device that RoboForm is installed on, not just the device the passkey was created on. This removes the need to create multiple passkeys and save them in the individually managed providers on each device.


How do passkeys work with RoboForm?
NOTE: Ensure that AutoSave is enabled.
When generating a new passkey for an existing account or during the setup of a new one, RoboForm will prompt you to save the newly created passkey. If you've previously saved a RoboForm Login for this online account, the newly generated passkey will be integrated into it. If no saved Logins for this site are found, a new one will be created.
Once the passkey is stored in RoboForm, when you opt to log in using a passkey next time, RoboForm will offer to log you in with a saved passkey.
Once a passkey is saved, its presence within RoboForm Login will be indicated along with the date of passkey generation. Saved passkeys are not editable or copyable. You can share passkeys with other RoboForm users using our secure sharing feature.


For example, to create and save a passkey for a Google account follow these steps:
1) Navigate to Googles passkey creation page and click the "Create a passkey" button.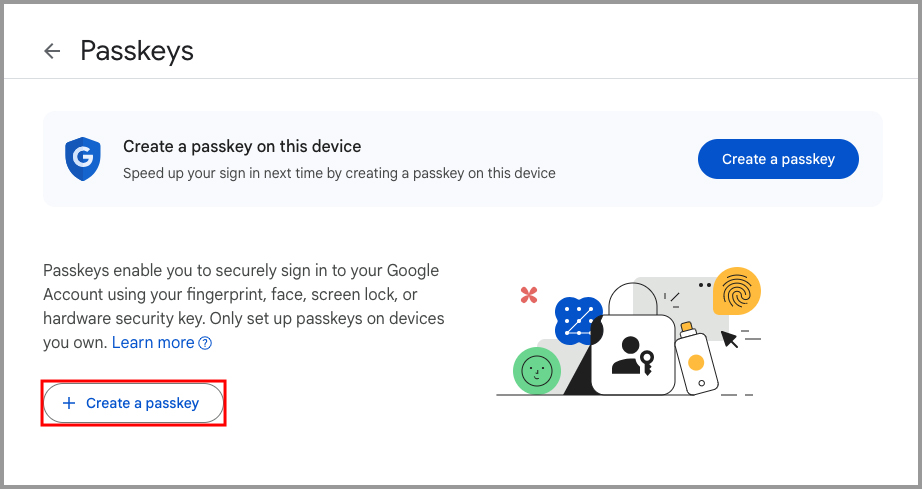 2) You will be prompted to confirm that you would like to create the passkey. Click the blue "Continue" button.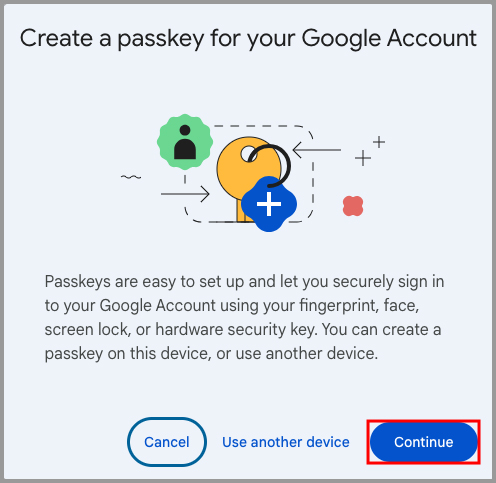 3) RoboForm will offer to save the passkey. Click the green "Save" button on this prompt.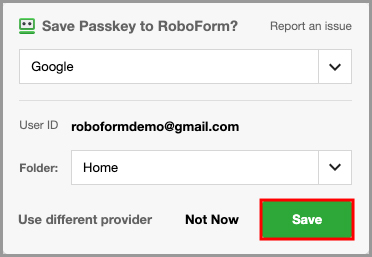 4) The passkey will be saved to RoboForm. From now on you will be able to use your saved passkey when logging in to your account.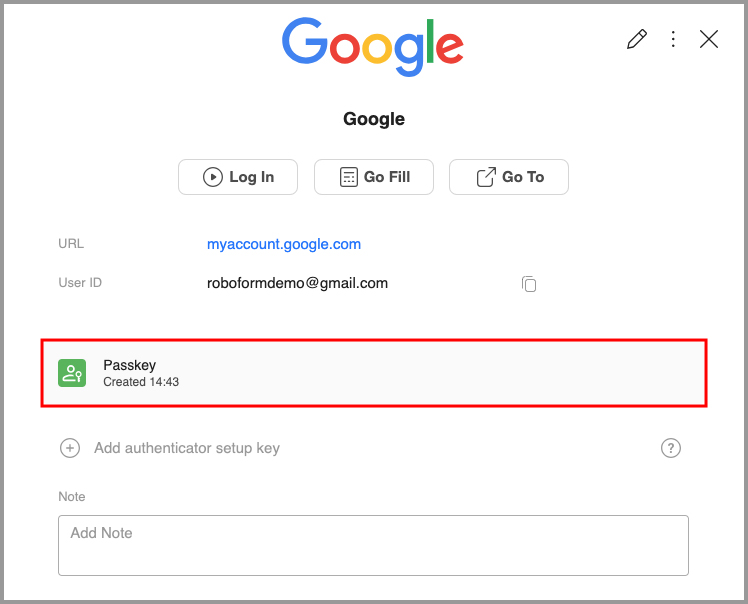 NOTE: The process of creating and saving a passkey may be different depending on the site.


On what platforms can I use the passkeys stored in RoboForm?

RoboForm supports passkeys in our desktop apps and standalone browser extensions, and will soon introduce passkey support for mobile apps in the upcoming release, provided users have the latest mobile OS on their devices (iOS 17, Android 14).