There may be sites on which you would not like to be prompted by RoboForm to save your login information. In cases where you already have a Login for a site saved and are still being prompted to save a Login, or you do not want to be prompted to save a Login at all, follow the steps below to block RoboForm from prompting to save your credentials.
Blocking a Login
1) Navigate to the sign in page for the site. For this example, we will use Capitol One's website. Then, enter your login credentials manually and click the "Sign In" or equivalent button.
2) RoboForm will ask if you would like to save the Login. Click the "Never For This Site" button in the save dialog.
RoboForm will then save a blocked Login to your RoboForm Profile which will be named in the format of [website name] -blocked-.
Unblocking a Login
If you change your mind about blocking the RoboForm save prompt, you can delete the blocked Login at any time using the RoboForm Start Page or the RoboForm Desktop Editor.
Start Page:
To delete a blocked login, use the search bar at the top of the Start Page to search for Logins tagged as blocked. Hover your mouse over the blocked login and click the "Trash Can" icon on the right.

Desktop Editor:
To find and delete a blocked Login in the Editor, use the search field at the top of the screen to search for Logins tagged as blocked.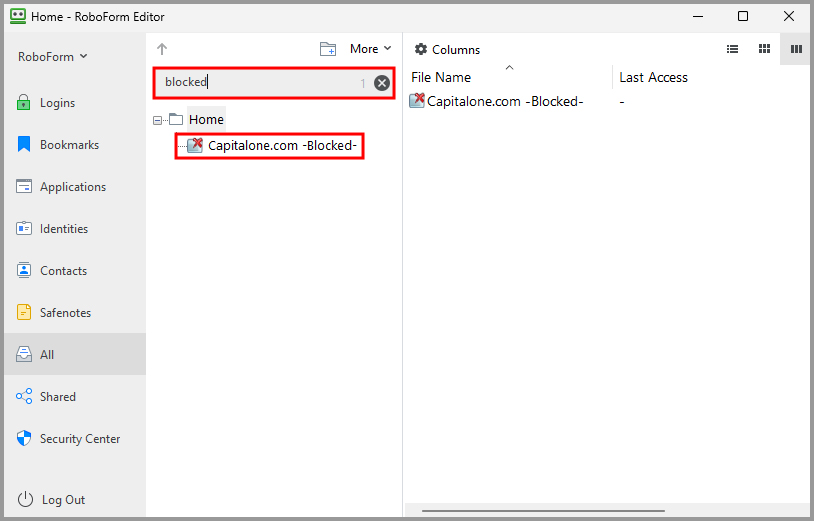 Right-Click the blocked Login and select the "Delete" option.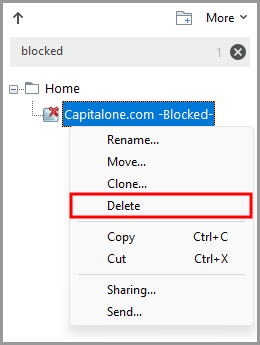 After deleting the blocked Login the next time you visit the site and log in RoboForm will prompt you to save your credentials.