Manually creating a Login
1) Tap the blue "+" in the bottom right of your screen.
2) Tap "Login."
3) Enter the domain or App name.
Note:
- If the app or domain you're adding is not found among our list of popular logins, tap "Create Login manually."
- When using our create Login manually function, please ensure the domain name is correctly entered.
4) Enter username and password, or other requested authentication values.
5) Select the folder to which you'd like it stored (by default, the Home folder will be displayed).
6) Tap "Save" in the upper right corner.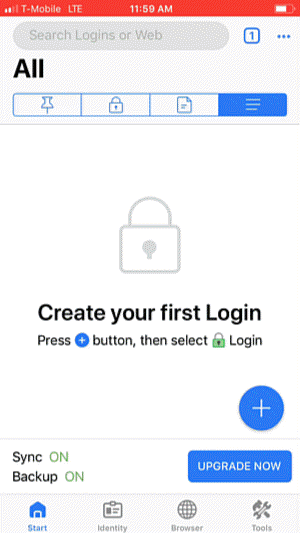 Once the RF Login is created, it can be used via iOS native autofill integration on any browser or app. Or, you can use it in the RoboForm application by simply tapping on it.
Creating a Login within the RoboForm browser using AutoSave
1) Tap the RoboForm "browser" button at the bottom of your screen.
2) Enter the URL of the site >> go to the log in page.
3) Type your email (or username) and password into the appropriate fields.
4) Tap the "Log In" or equivalent button.
5) RoboForm will prompt to save the Login.
6) Name the Login and tap "Save" in the upper right corner.