RoboForm groups are functional organizational units for role based permission sharing of RoboForm files and RoboForm policy deployment. 

The Users/Groups tab is where all of the groups are displayed and is where they can be created, edited, and where users can be added to them.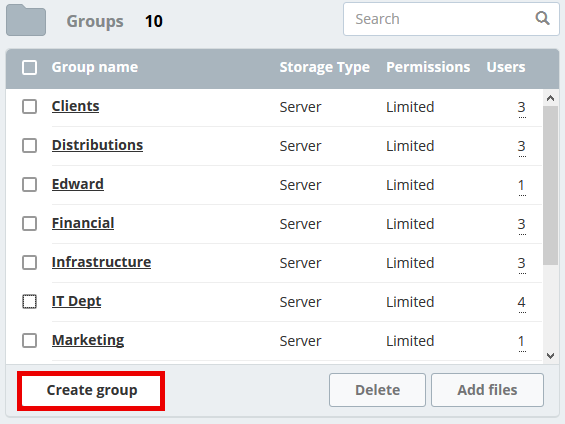 During group creation the administrator will be prompted to set the group's name and default storage and permission type.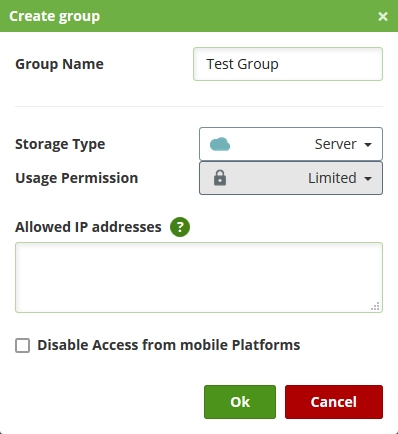 Storage Type
The storage type will determine where copies of the data shared in this group can be saved .

Synced:

A Copy of the RoboForm files assigned to this group will reside on the user's device as well as on your companies' account hosted on our servers. This means that users in this group will be able to use the data that has been shared with them even if they are offline.

Server:

A copy of the data shared in this group will never be stored on the user's computer, it will only be stored in the companies' account hosted on our servers. This means that users in this group will only be able to use these logins while they are online.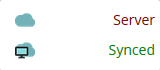 Usage Permission


The usage permission will determine the level of access that users in this group will have to the data that is shared with them in this group.
Limited Permission
Limited permission will only allow users to login with the data shared with them. They will not be able to view any of the details of the login such as the username and password nor will they be able to edit any of this information.
Regular Permission
Regular permission user has the ability to view and edit RoboForm files belonging to the group. Any edits that regular users make will be synced to everyone else in the group.



Allowed IP addresses
If any IP addresses are listed here then the data in this group will only be accessible if the user is logged in from one of the listed IP addresses or within the specified IP range. Start each address or range from a new line or delimit each entry with a ',' or ';'. To list a range of address use a '-', use a '*' to denote all numbers in that range.
Checking Disable Access from mobile Platforms will prevent the data in this group from being accessed from an Android or iOS device.
Once you have finished your new group will appear and you will be able to add users and allow you to change any of these settings. You will also have the ability to restore the data in this group to before the most recent change was made to it.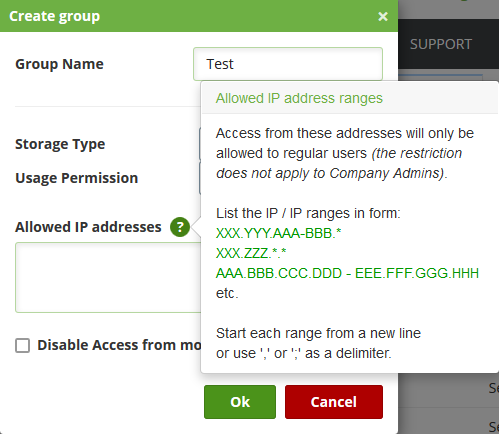 Add user to a group


To add users to groups by:
Selecting the users to be added from the User panel.
Select the groups the users should be added to from the Group panel.
Click Add to Group bellow the User panel.
When adding a single user to a group there will be an option to set their Storage Type and Usage Permissions if they need to be greater or less than the default permission. If multiple users are added at once then they will all be granted the default permissions.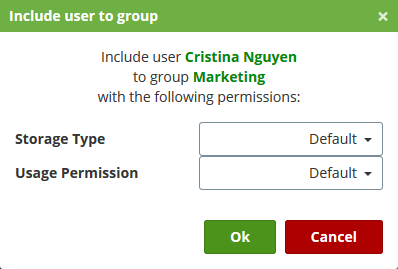 Users in Groups

Once a user has been added to a group an entry will be generated for them in the Users in Groups panel. A user's permissions in a group can be edited from this panel or they can be removed from a group entirely. The entries can be narrowed down by user or by group. Clicking the name of a user will narrow the entries down to just the groups that user is in. Conversely clicking the name of a group will show only the users in that group. Typing the name of a user or group in the search field will only show entries with the user or group name you entered.



By selecting an entry from this list and pressing Remove User from Group the user will be removed from the associated group.
A user's permissions in a group can be edited by selecting edit next to their name in the appropriate entry. From here a user can be delegated the Group Manager permission, making them the admin of their group.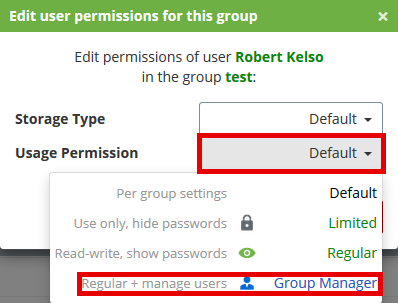 The Group Manager: 

The Group Manager has the ability to add new users and data to their group, edit the permissions of users in their group, and edit policies for their group. A Group Manager will not be able to make a policy less restrictive then what an admin as set for the company or that group but a group manager can make policies more restrictive.
Add Files to a Group


Files can be added to a group from the files tab. If a file is selected in the Files tab then it can be added to a group by clicking Add to Group. Multiple files can be selected at once by holding down the ctrl key and click each file. Once a file has been added to a group all users in the group will have access to the data with the appropriate permissions applied.