A RoboForm for Business company account is created by filling the form below.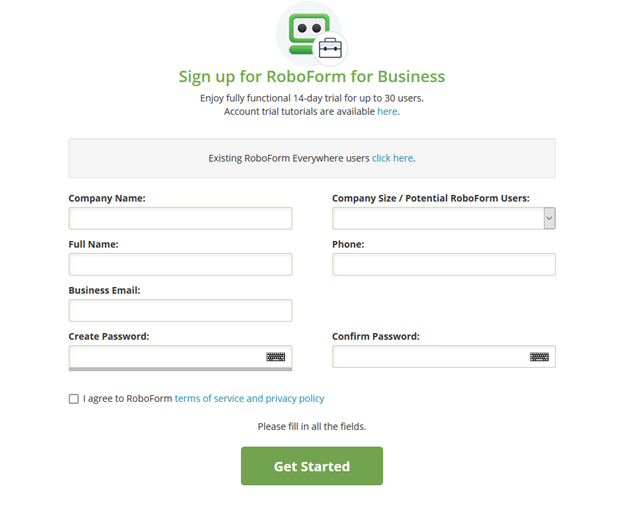 NOTE: If the email you provide is declared as already in use, please see this FAQ article.
Upon form completion, your RoboForm for Business company account will be created. The email you provided in the form becomes the dedicated administrator email for this account.
A newly created RoboForm for Business company account is automatically placed in "Free Trial" mode. This mode is available to all businesses for 14 days and includes up to 30 trial users/accounts.

NOTE: If you have already purchased a RoboForm for Business license, please see this FAQ article.
The benefits of a RoboForm for Business account include:
Centralized RoboForm deployment and employee onboarding
Centralized RoboForm security policy enforcement
Centralized management over company owned passwords and forms
Once the 14-day trial has expired, you will be granted the option to extend the free trial for another 5 days. This additional 5 day extension is a one-time option and is only available after the initial 14-day trial expires. All created users and groups will remain intact.
At any time during the free trial, you can choose to upgrade to a full license by simply clicking on the "Purchase" button in the upper right corner.



The purchase button is available only to RoboForm for Business company admin accounts. Once pressed, the purchase link gives admins the ability to choose the number of licenses (accounts), duration of the initial subscription, and payment options.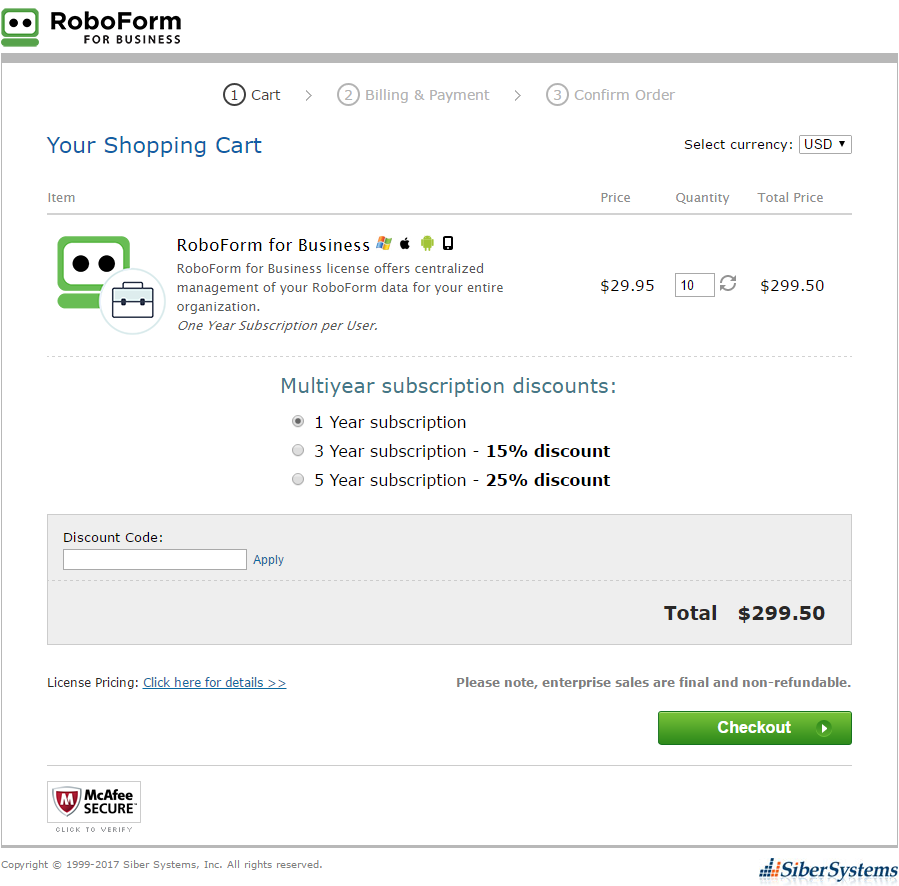 Discounts
RoboForm for Business offers two tiers of discounts: volume and multi-year discounts. The two discounts can be combined.

Volume discount
The volume discount is calculated by the number of licenses (accounts) within a single purchase (batch). The volume discount breakdown is listed below. Volume discounts do not include licenses (accounts) that your company previously purchased.

Note: For businesses with 1000+ users, please contact us for pricing.

Multi-year discount
The multi year discount is calculated by the subscription duration. The longer the subscription, the greater the discount. Please note, a one year subscription does not qualify for a discount. The breakdown of the multi-year discount is shown below.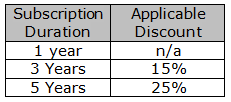 A multi-year discount is available for initial purchase and renewals only, it cannot be used for additional licenses purchased during the active subscription term.

Our purchase page automatically calculates both discounts. Please use our purchase page as a simple price calculator.